Trent Mitchell captures the essence of small-town Australia in his photographs.
Over the phone Trent Mitchell sounds every bit the unassuming Aussie. Brought up in Sydney's northern beaches, the self-taught photographer began his career as a graphic designer, taking pictures to complement his design work. As time progressed he found himself increasingly drawn to the medium. Now he shoots commercially full time, and in 2015 he won the coveted Moran Contemporary Photographic Prize for his striking image, Boy in Boat (pictured below).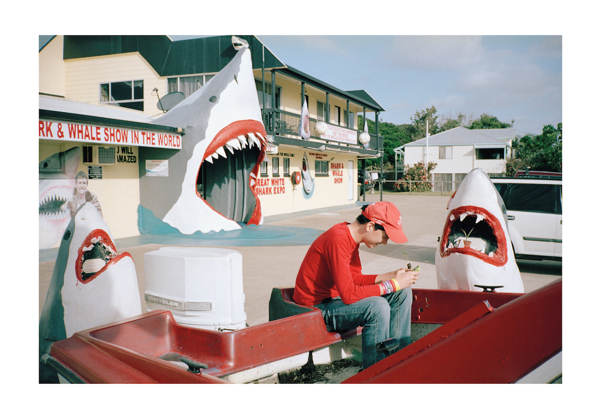 "I was always curious about photography; about how cameras work and [how] photographs engage people," says Mitchell. Captured on film on a work trip in Hervey Bay, Queensland, the award-winning photograph was taken outside the recently closed Vic Hislop's Shark Show. In typical Mitchell style, the image of kitsch fake sharks has a dreamlike nostalgia. There's a sense of surrealism that emanates from his work; peculiar moments in time that look like distant memories.
For his upcoming solo exhibition (part of the prize is a solo exhibition), Australia. Seriously?, Mitchell has sifted through his archives and selected images taken on his numerous trips around Australia. The show is a culmination of eight years of shooting and close to 6000 film photographs.
"It's the most honest work I've ever done – it's a reflection of how I see things. It's just me, drawn to these funny little things that I may have been drawn to when I was a kid," says Mitchell.
While his earlier work was characterised by beautiful ocean photography, the images in *Australia. Seriously? * focus on urban scenes that reveal our country's oddities. All shot on film, the images are barely edited, "I just scan the photos in and do minor corrections to balance the film base," says Mitchell.
"I don't want to say too much, I like to let the pictures do the talking. But they're just photos of how I see Australia."
Australia. Seriously? is showing at Juniper Hall from August 20 to September 18.
juniperhall.com.au/exhibitions
Article Courtesy of BROADSHEET
Story by Katie Milton