G'day to our Balter community… today is a massive day. We're rapt to say we've just finalised a deal to become a part of the Carlton & United Breweries family.
The sale means a lot of things (and doesn't mean some others), so we wanted you to hear it straight from the brewer's mouth.
Firstly, the beer will stay the same. Scotty will remain head brewer, in charge of every drop that makes its way into your mouths. The rest of the staff - from brew team, to marketing, to warehouse legends, to the entire gang who run the show, are all staying too. It's business as usual, but with undoubtable backing, access to over a century of brewing knowledge and even more availability for you guys. 
We've always believed that good beer is for everybody and this is a great way to continue that mission of sharing 'good beer, with enjoyment'. It also means we'll be able to manage the epic growth we've experienced since day one, in a way that won't affect the quality of the beer, or sanity of the people in the business.
Some of you may or may not know that when we started Balter it was backed by our family and friends. They believed in us when we were just an idea on a piece of paper and supported us with more than just words. It's with great pride (and relief) to stand before all 46 families today and say we didn't stuff it up. We can now repay their faith in our dream with more than the odd free box of XPA in their fridges.
To those who are worried that the beer you've come to love will change somehow - we hear you. Change always comes with uncertainty. All we can say is we're determined to not let that happen.
If the same crew, same ingredients, same work ethic, same values and same sense of fun going into Balter doesn't set you at ease, simply try one of our beers in a month's time. The proof will be in the tin. Always has been, always will be.
Thanks for being a part of the journey so far.
From the founding mates,
Ant, Stirls, Mick, Bede, Parko, Aza, Scotty, Kerrzy & Sean
We understand that people will have more questions so if you want to know more you can do so by the following:
Below is some FAQ's we have put together with our thoughts.
Hear a more in-depth chat with our founders at Brews News podcast where Matt Kirkegaard talks with Mick Fanning (Founder), Ant Macdonald (CEO/Founder), Stirling Howland (Brand Director/Founder) & Scotty Hargrave (Head Brewer/Co-owner)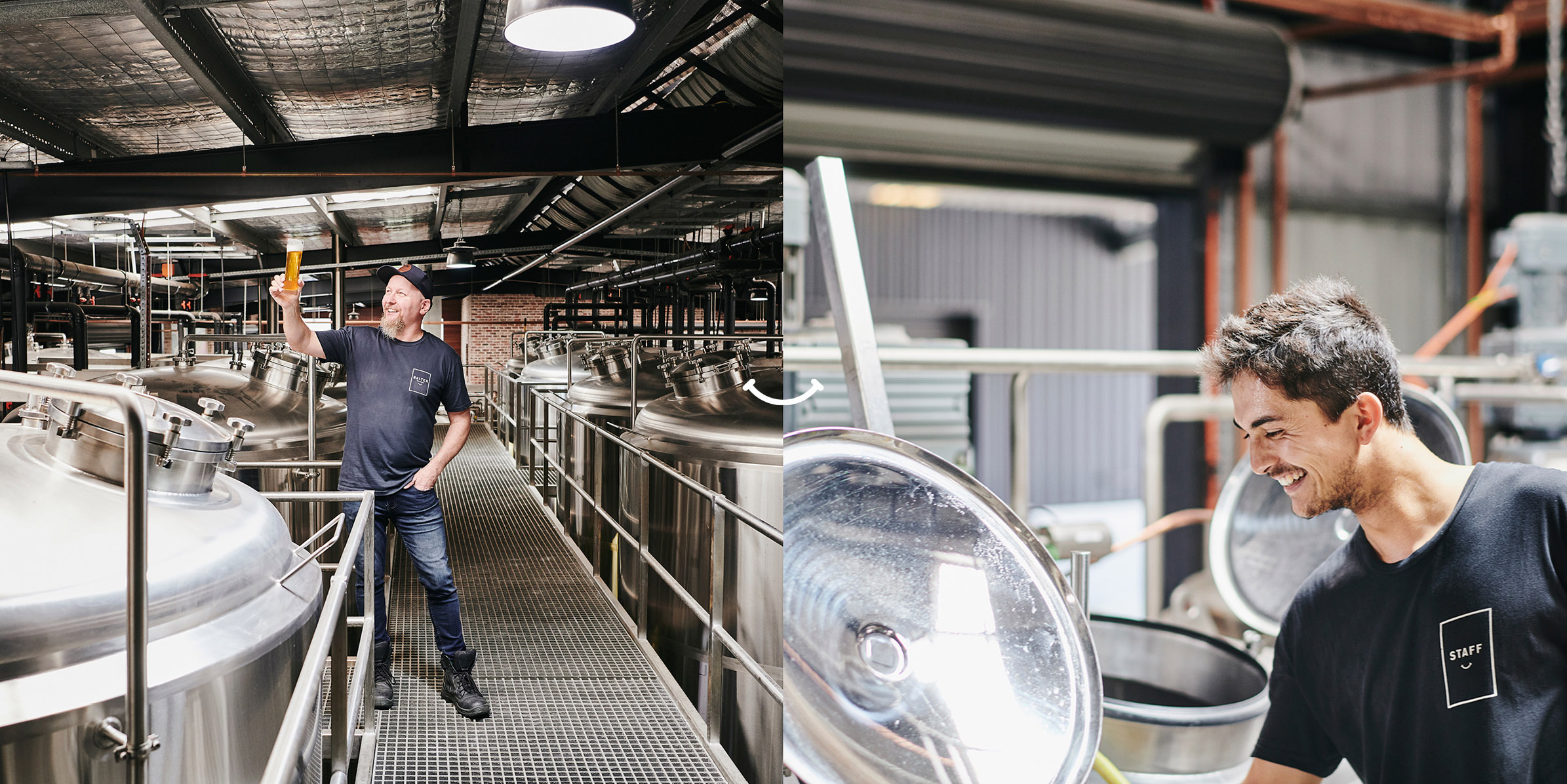 Why have you sold the business?
This was basically an opportunity that ticked all the boxes for us. We get to take the Balter message of "good beer is for everybody" much farther than we ever could on our own. We get to secure the future of our entire crew who have made us what we are today. We get to fast track our sustainability goals. And, really importantly, we'll be able to repay the friends and family who invested in us when we were just an idea on a piece of paper. That's the guts of it.

There was also the question of whether a buyer would change the beer and what we stand for. We weren't going to compromise the values that have made Balter what it is. The simple fact is CUB don't want to do that either. And, they can't. We have that in writing.
Finally, we also wanted to feel good about sitting down with any new partner for a drink. The old 'would you have a beer with them?' test. Flip and everybody we've met at CUB has passed that test in spades and we're looking forward to sharing a few celebration tins with them today!
How long have you been considering selling the business?
It feels like the rumour mill has sold us about 1000 times already. Despite a bunch of approaches, we've never entertained any of them before now. The only reason we started chatting with CUB was their commitment to keep Balter largely as is.
Surely these things will change now that you're no longer independently owned?
No, they won't. CUB have put that in writing and we'll hold them to it. We wouldn't have come to an agreement otherwise.
The same crew, same ingredients, same work ethic, same values and same sense of fun are still at Balter, so you can be pretty sure the same things will be happening too.
You guys are the definition of sell-outs. How does this sit with you?
Yes, we've sold the business, but no we haven't sold out. Tomorrow we'll still show up to work with the exact same team, with same mindset and values that have made Balter to what it is today.
How do you expect customers and consumers to react?
We'll just have to wait and see. Some will be cheering alongside us, excited Balter will be more widely available. Others might be a bit disappointed because they hold independence in high regard and we get that.
We'll show up tomorrow and continue to deliver the beer and experiences they've come to expect from us because our commitment to our work hasn't changed. But ultimately, like always, the proof will be in the tin.
What do you say to consumers who won't drink Balter now because it's corporate-owned?
We understand there'll be some disappointment out there from people who hold independence in high regard and we respect that. But we'll still be working hard to deliver good beer with a sense of fun and enjoyment. Same people, same ingredients, same everything.
The beauty is we now have the backing of CUB, including their relationships with pubs, bars and other venues, which means more Balter where you couldn't get it before.
What's happening with the existing Balter beers? Will the range or ingredients change?
In short, the range and ingredients will all stay the same. Our Head Brewer Scotty and the whole extended team couldn't live with ourselves if we compromised our commitment to bringing you the best beer we can make. A big part of signing this deal was that CUB won't change anything about the way we make beer taste.
CUB make bland, mass-market beer. Aren't you afraid they're going to stuff this up?
The same crew will be here brewing the beer with the same ingredients, so the only ones that can stuff it up is us. We'll continue to run Balter with the support of CUB, but they've been really clear about not wanting to change things. It's nice to know that other craft breweries like 4Pines and Pirate Life are making beer as good, if not better, now than they did before being acquired by CUB, so we'll be working hard to live up to expectation.
You guys are now under the same banner as 4 Pines, Pirate Life, and very soon Green Beacon and Mountain Goat too. Does this worry you? How does it make you feel?
Today we're celebrating what we think is a great partnership for Balter and for CUB. Our brand has gone from strength-to-strength in the past and we think that will only get better with CUB. We're looking forward to being part of a portfolio where we can learn and share with these other great Australian craft brewers.
Are you really going to be able to run this the way you want to without major corporate interference?
That's the agreement. We wouldn't be doing this unless it was structured in a way that let us do our own thing - from brewing to marketing and continuing to run our own sales team. We're going to keep our own identity.
What's going to change for the business?
The biggest change is that Balter will become more widely available. On the back end, we'll also have more resources and therefore less stress at night knowing the lights will stay on. For regular Balter lovers though, it'll look the same.
Are you concerned a cost-cutting approach will be applied to Balter?
No. CUB has committed to the current way we do things.
Are you expecting some pubs to stop stocking your products?
There a few select places that stock independent only, so, unfortunately, we'll be off shelves there. That's fair enough and we respect that decision, even though it's a bummer. Some of those guys have been our biggest champions from the start.
How is the culture/vibe of the company going to change?
As we've said previously, our company is a reflection of the people who are in it. None of the team across the entire business are going anywhere, so we expect the positive vibes will continue.
You say that management and all staff are staying on but what about the pro-surfers including Mick? What do they actually do, will they still do it or has their involvement just been a marketing stunt?
The boys aren't going anywhere. If you know them, you know they wouldn't give up free beer that easily. Seriously though, these guys have been heavily involved behind the scenes since the start, sitting on our Board of Directors and attending every founder's meeting we've had. As Mick Fanning said from day one "We are Balter's cheerleaders!". They've helped shape the fun personality of Balter and have all committed to continue that moving forward. You'll see plenty more of them at events, and we'll still have Parko in our ears pushing to release one of Scotty's famous wheat beers in a can.