Balter: (v.) to dance artlessly without particular grace or skill, but usually with enjoyment.

Whether you need a little liquid courage, or dancing this way simply comes naturally, you'll love the name given to one of the most exciting new ventures to land on the Gold Coast in 2016.
What is a fantasy for many men, but one very few have the chance to realise, co-owner Bede Durbidge had long dreamed of opening a craft brewery, so when conversations accelerated among hometown friends just over a year ago, the idea for Balter Brewing Company was born.
Familiar faces to front the team are none other than four of the Gold Coast's proudest achievements—three-time world champ surfer Mick Fanning, one-time world champ Joel Parkinson, along with pro tour surfers, Bede Durbidge and Josh Kerr.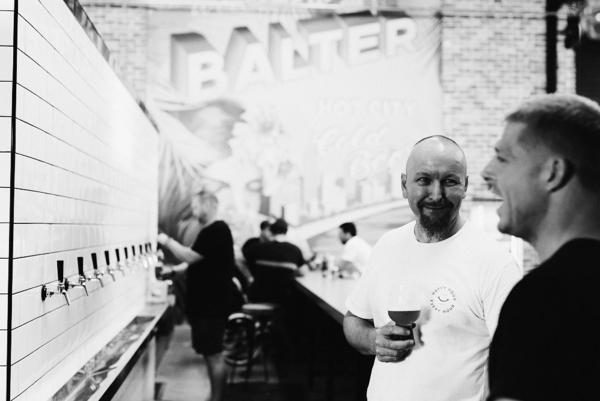 Spawned out of a deep-rooted appreciation for beer, and knowing that Gold Coast's craft beer culture has nowhere to go but up, they were eager to create a project they could call their own and get involved in the local scene that, as they describe, is really coming into its own right now.
The tight-knit team of friends have big plans for their Currumbin-based brewery, with ideas in the works when opening to the public around March, including brewery tours, tastings, special events, live music, and food truck nights.
But in the words of Balter spokesperson and co-founder Stirling Howland, "first we must make beer!"
Fortunately, we won't be waiting much longer. With final works complete on plumbing and electrics, their first batch of amber liquid gold is due any day now. Each brewing process takes around two weeks, and given they are satisfied with the first batch produced in their sparkling new brewery, by February we can anticipate seeing Balter appearing on the taps of craft beer bars around the Gold Coast, Brisbane, and Northern NSW.
Balter's first beer off the ranks will be an XPA (Extra Pale Ale) which Head Brewer Scott Hargrave describes as "punchy, tropical, with floral aromatics intertwining like you and her on a daybed, a broad fruity palette, and a crisp clean finish that's sprung like a sports car." Beer connoisseurs eat your heart out.
When the physical brewhouse opens around March, it'll have the cool-as-hell feel of an industrial Melbourne warehouse with exposed vaulted ceilings, towering brick and wood-panelled feature walls, polished concrete floors, copper piping, some sexy tile work, a huge wrap-around bar fronting the 12-tap wall, art work by Frank and Mimi and, of course, a room full of jewel-like stainless steel. In the era where farm to plate is celebrated, this is the purest form of appreciation for hop lovers, with brews travelling a few short metres from tank to tap to your pint glass.
If you've long dreamed of having access to GC's home-grown surfing superstars, this may be your best chance; with Balter HQ certain to become the boy's go-to watering hole when they are home from tour, and even more so with retirement from the pro circuit on the horizon. Parko has already claimed dibs on the role of CTO (Chief Tasting Officer) and, with a life in the spotlight, Mick is finding solitude sweeping in dark back corners of the brewery.
The crew of friends behind Balter are stoked to soon become an integral part of growing the Gold Coast craft beer culture, joining the likes of another newcomer, one-year-old Black Hops, and well-established Burleigh Brewing and Stone & Wood.