GOLD COAST / NORTHERN NSW

Tuesday November 6th : Tap Takeover Rick Shores / Melbourne Cup by the Sea
Balter beer and the famous Rick Shores fried bug roll… say no more! Tickets are disappearing as we take over the taps with XPA & Captain Sensible @ Rick Shores Melbourne Cup by the Sea Email -- seatme@rickshores.com.au or call 07 5630 6611 to book
Saturday November 17th : Balter Tinnie Bar / Client Liaison @ Kingscliff Hotel
Wet your palate with fresh Balter XPA & Captain Sensible while Client Liaison's throw you deep into multi-sensory wonderland
Saturday 24th November (from 2pm) : Lily Budiasa @ Balter HQ
Lily takes over the Taproom for our Saturday arvo session at the Balter Taproom with her earthy vocals and a guitar in hand, once you hear her voice.. you'll be thankful you came -- Zicatela Foodtruck will also on deck serving up the their incredible wood fired Mexican goodness
Friday 30th November (6pm till Late) : Hello Summer! Presented by Balter @ Brunswick Hotel
Come down to one of the best Aussie pubs to hang with Mick, Durbo and the Balter Gang for an arvo of good food, music, giveaways and… of course, beer! You've lost the plot if you aren't there
Every Thursday! TINNIES & TACOS With Zicatela @ Balter HQ
Thursday means 5 Buck Tinnies & Tacos... Our best pals Zicatela bring the wood fired tacos (Menu hack : the fish and pollo tacos), Wings & loaded nachos -- Hasta la vista amigos!
Every Friday! Frothy Fridays @ Backbone Craft Beer Bar, Tugun
Our good pals at Backbone Bar are running Balter Beer specials every friday and undoubtly home to the best Karaage on the Gold Coast (as voted by us) as well as Dumplings hand made onsite and killer Bao -- track them down at @backbone_bar for more details
9th & 23rd November : Beer of the Month + Shouts @ Brewd Brewery, Paradise Point
Brewd bring a wave of brews and bites at the tip of Paradise Point — Come through for Lunchtime Beer Specials plus Balter Beer Shouts on the 9th November & 23rd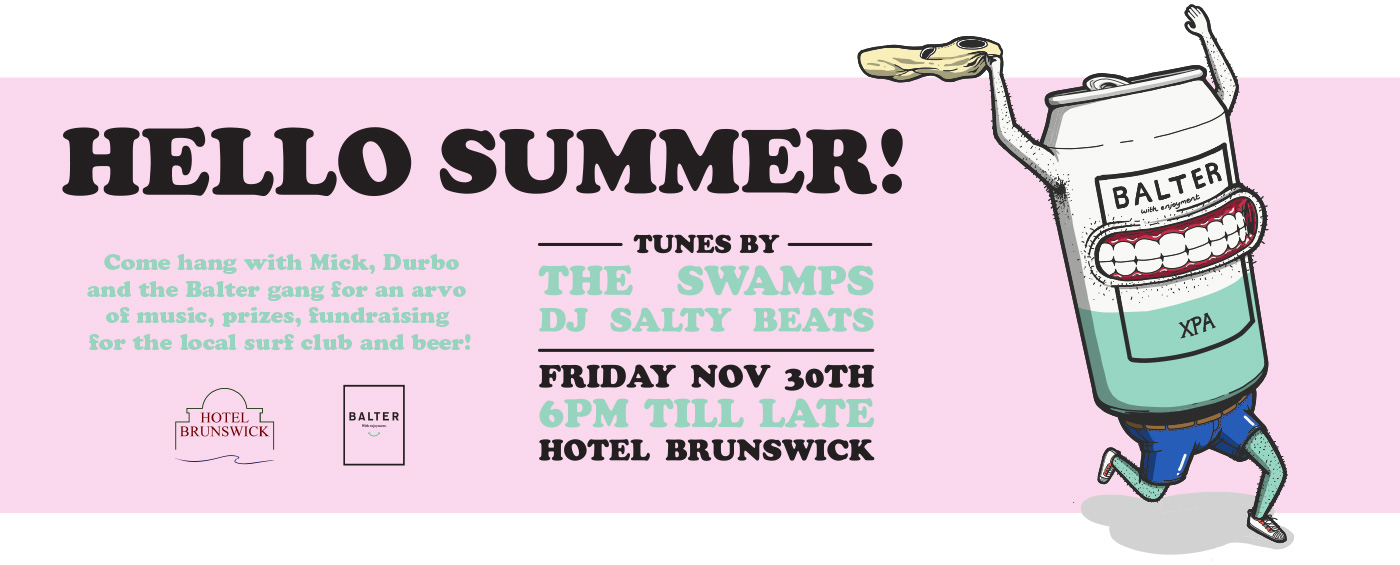 BRISBANE
Saturday 17th November (10am - 6pm) : Bubbles & Barrels Beer Festival @ Pig n' Whistle / Brunswick StPig n' Whistle are rounding the entire brew-loving community of Brisbane to celebrate what we love best… Beer. Catch the Balter Tinnie Bar serving up all five beers on epic day with craft beer, BBQ food and live music -- More details over here!
Saturday 3rd & Sunday 4th November : Cheerfest (The Cutaway @ The Barangaroo Reserve, Sydney)
Cheerfest is putting on over 200 craft beers created by only Indie Australian breweries (with a couple of special guests from New Zealand). If the beer is not enough, there will be non-stop entertainment and the best of Sydney's Gourmet Food trucks
Sunday 18th November (1pm - 10pm) : Hot City, Cold Beer @ The Beery, Terrigal NSW
You don't want to sleep on this one! Balter tinnies on ice & a very Special DJ set @ 7pm -- but we can't tell you who... Let's knock the top off a few, watch the sun go down and get weird!
Sunday 18th November (12pm start) : Warners Fest 2018, Warners Bay NSW
This year is set to be the biggest year yet with over 50 exhibitors showing off some of the best Beer, Wine & Cider available in Australia. Throw in some local food stalls and Live Music from Zane Penn and you are in for a great arvo!
For more information, pop in your head in here 320 Hillsborough Rd, Warners Bay NSW 2282 / @warnersatthebay
VICTORIA
Thursday 8th November (from 8pm) : Spread Eagle 'Balter loves locals'
Richmond locals! Come down to hear the Balter story, have a high five with Luke from Balter and he will even shout you a beer!
Saturday 24th November (From 11am) : Movember Bingo @ Cherry Tree Hotel, VIC
Come down and have some beers that can make a difference. Let's raise a glass and some money to support mens health! Heaps of prizes happening and as always 100% of proceeds will be directly donated to Movember, to support Men's Health Research and Programs in Prostate cancer -- Pick up your ticket here
All November / Beer of the Month @ Hotel Albion, VIC
Hotel Albion is gearing up Beer of the Month with $5 pots and $10 pints of fresh Balter to make your face smile :)
Take a photo with Lady Albion (Lamp) and tag #getyouralbion on Instagram during the month of November for your chance to win a case of Balter! It's almost too easy — Head to @hotelalbionpm for more details!
SOUTH AUSTRALIA
Sunday 11th November (Midday-6pm) : Luke Day - Live Mural Painting @ Sea Salt by Sea, Adelaide
Our good pal and the super talented illustrator Luke Day will be down at Henley Beach's Sea Salt putting brush to wall — head down to see the man at work and enjoy XPA & Captain Sensible Can Specials all weekend!