In a country as thin as New Zealand, West Coast vs East Coast doesn't even matter. We're proving that by bringing beer lovers together with a new All Coast IPA made from all-Kiwi hops. This limited release is the 2nd stop on our 'mouth holiday' series, which started with an NZ Pilsner earlier this month and now escalates to something even more luscious.
"Pils was the perfect refresher to start this experiment with, so now we're balancing that with what NZ hops can showcase in intensity, flavour and mouthfeel," says Head Brewer Scott Hargrave. "Kiwi-grown Motueka and Nectaron hops give this IPA a grassy, grounded character to it, bringing to mind the dewy green paddocks that connect both NZ coasts. We've also been able to deliver notes on the palate that we haven't put in a beer before, like a kind of epic mash of orchard fruits."
This latest instalment in our NZ Mouth Holiday series comes in a special 80's tourism brochure-inspired can. The third beer will be an NZ HAZY released next month, giving fans the chance to try each of the releases in one sitting to compare how different flavours can be produced by similar hops but different grain builds and brewing techniques. A true round trip.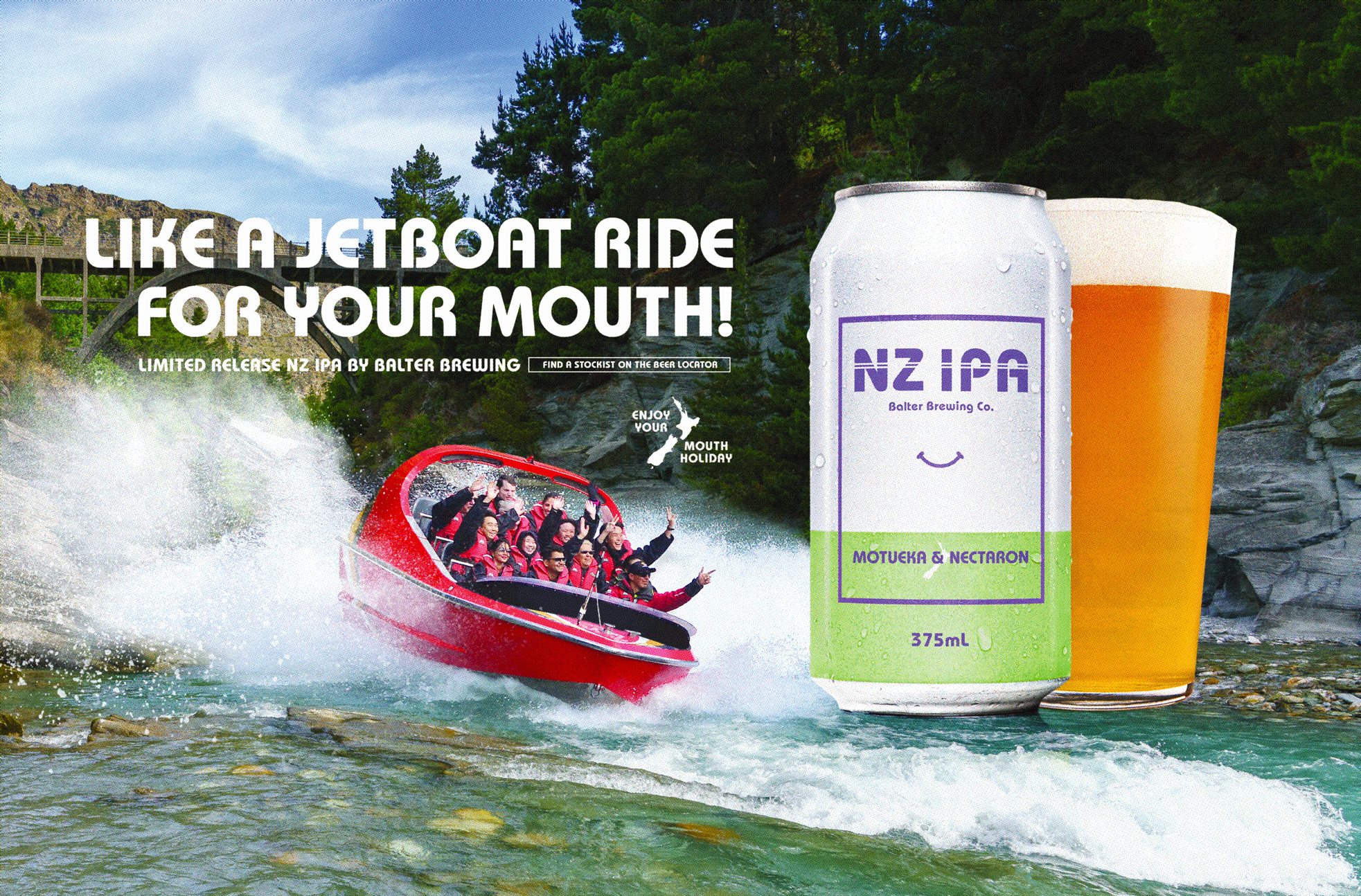 For now though, all lips are on the NZ IPA that goes a little something like this:
Fire up your kisser and hold onto your jandals, this beer will thrill you from face to feet. The 2nd stop in our NZ experience, Motueka and Nectaron rev their hop engines for a liquid delight. Lime jelly and marmalade notes swirl with white peach and refined grassy resin, all strapped together with a firm malt structure. Clear and bright as a mountain lake, NZ IPA is a jetboat ride for your mouth.
To take yourself on a mouth holiday, head down to your local beer agent (bottleshop) and book a second silver ticket from May 18th. You might even want to try one with your neighbour across the fence. In beer we unite!

Find your closest location here: https://www.balter.com.au/beer-locator/